Australia is a parliamentary democracy. The Australian Constitution of 1901 established a federal system of government in Australia. Under this system, powers are distributed between a national government (the Commonwealth) and the six States. The Constitution defines the boundaries of law-making powers between the Commonwealth and the States/Territories.
As well as the six States (New South Wales, Queensland, South Australia, Tasmania, Victoria and Western Australia) there are three self -governing territories - Australian Capital Territory, Northern Territory, and Norfolk Island.
The legal system, a common law system, was inherited from England at the time of colonisation. The two major sources of Australian law are:
Cases - the decisions made by judges in the courts; and
Legislation - the legal rules made by parliament and by those to whom parliament has delegated authority.
(from Parliament an Overview)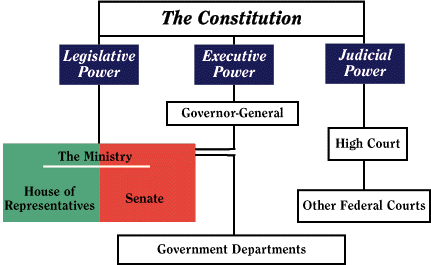 ---
Books on the Australian Legal System